How parents keep the faith: a Christmas gift of mitzvahs
More important to the Caplans than temple attendance is modeling their Jewish identity – like offering mitzvahs of music as a Christmas gift – as a way to help their children keep the faith.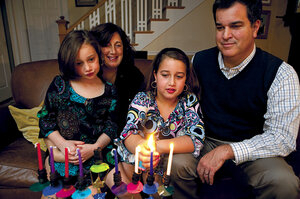 Melanie Stetson Freeman/Staff
On Christmas Day, 8-year-old Lila Caplan and her 6-year-old sister, Louisa, don't receive presents, but they make a point to give a few.
With the Christian holiday closing down all schools and businesses, the Caplan girls turn to their own Jewish religion in response: They perform a mitzvah, or good deed. Their mom, Melissa, takes them to visit a nursing home or two where they play their violins for enthusiastic elderly audiences.
"We sometimes even do that on Sundays!" says Lila, who also handed out Meals On Wheels for seniors last year on Christmas.
For the Caplan family, finding meaning in Judaism is largely about putting Jewish values into action. And doing that at home is key.
The goal is tikkun, healing the world, explains Lila's father, Andy Caplan. Doing mitzvah is a part of that. Mr. Caplan, a lawyer, even met his wife, Melissa, a Hebrew school teacher, at a meeting of Anti-Defamation League activists. They want their daughters to know why they stay involved in ADL. "The values that ADL stands for – combating bigotry and anti-Semitism – are, to me, core Jewish values," Mr. Caplan says. "I try to spend time explaining to the girls what the ADL does so that instead of just saying, 'Daddy, why are you going to a meeting again tonight?,' they'll see what values are important to me."
The Caplans have long recognized that passing down Jewish values would be a job for them – but with help from a larger community than just the synagogue. Ms. Caplan grew up in a New Jersey neighborhood where her family largely assimilated with the dominant Christian culture. Her parents counted on institutions to help her find meaning in Jewish practices.
---