New on television: 'Terminator: The Sarah Connor Chronicles' and 'Comanche Moon'
The Terminator is back, this time on television. Also returning this week, the characters of 'Lonesome Dove' in a miniseries prequel.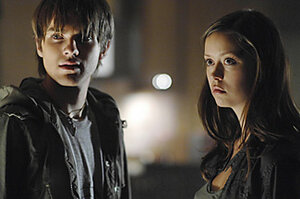 Courtesy of Richard Foreman/Fox
Terminator: The Sarah Connor Chronicles
(Fox, Jan. 13, 9 p.m.): As one of the few new scripted series during the writers' strike, this film franchise-turned-TV series gets a boost it hardly needs. Lean and breathless, just like its all-business star (Lena Headey of "300" fame), this time-travel tale starts fast as bad robots from the future chase good humans in the past. Think too closely about the details and it ruins the fun. Grade: B+
Comanche Moon
(CBS, Jan. 13, 15, and 16, 9 p.m.): This six-hour miniseries is a prequel to the 1989 TV western, "Lonesome Dove," filling in the years before Tommy Lee Jones and Robert Duvall became the craggy, picaresque stars of Larry McMurtry's story. Focused on the 1858-65 tensions between Texans and Comanche Indians, this tale rambles around the mesa, exposing a flash of unrequited romance for both stolid heroes (played by Karl Urban and Steve Zahn), some disastrous massacres, and the quiet desperation that surely marked frontier life. It's comfortable storytelling but, all told, it would hardly stir a burro in the dusty town of Lonesome Dove. Grade: B – Gloria Goodale
---
Follow Stories Like This
Get the Monitor stories you care about delivered to your inbox.