Fewer laughs in fall's TV lineup
Short on comedy, new dramas still combine best elements of old franchises.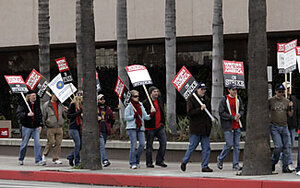 Damian Dovarganes/AP/FILE
As the fall season gets under way, the big story across TV land is the long-lasting impact of the 100-day writers' strike that concluded in February.
"The strike changed everything in terms of the way development went," says Stephen McPherson, president of ABC Entertainment. There are fewer new shows on the major networks – ABC has only two ("Life on Mars" and "Opportunity Knocks") – and more than a quarter of the new series are either repackaged or repurposed material.
Only 16 new scripted shows are being rolled out – down from a high of nearly 40 a decade ago. Four of the new series are based on programs from overseas ("Kath & Kim," "The Ex List," "Eleventh Hour," and "Life on Mars"), while two are retreads from earlier eras in US tubegazing ("Beverly Hills 90210" and "Knight Rider").
But as in any good Hollywood script, the main narrative is not the full story by any measure. This season's offerings reflect deeper industry trends as well. "The strike accelerated changes that had already been started," says Marc Graboff, co-chair of NBC Entertainment and Universal Media Studios.
---