Prime time's new season
With five hours of drama ditched for Jay Leno each week, TV insiders see a larger recalibration afoot.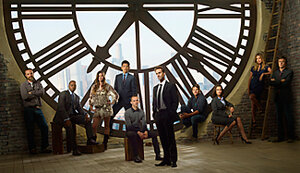 BOB D'AMICO / ABC
Somehow, in spite of the explosive, 24/7 competition of everything from streaming videos on the Internet to hit shows on basic cable and a $30 billion video-game industry, broadcast television networks manage to hold onto one of the last vestiges of an earlier era of media dominance, namely the ritual unveiling of the prime-time, fall TV schedule.
The season's 27 new shows on all five free networks will launch throughout the next few months, with most bowing in during the next few weeks. This is the first full-development lineup to roll out after the crippling 2007-08 writers' strike, and in many ways, say writers, producers, network executives, and industry analysts, this year's crop says as much about why, against many odds, network television remains an important cultural force as it does about the powerful changes profoundly and perhaps permanently altering its future.
"The broadcast networks, with their mandate to reach the biggest possible audience, and with the kind of resources they can still throw behind a project," says Elayne Rapping, professor of American studies at the University at Buffalo (SUNY), "are still the best potential source for our shared stories or collective myths, the ideas that tell us who we are."
---