Why it's always crime time on TV
A slew of new law-and-order dramas ordered up by the TV networks show the genre's enduring appeal.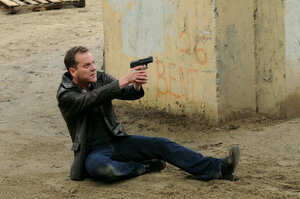 Richard Foreman/FOX
Bang-bang, we're not dead yet. That's the message sounding from the broadcast television network executives who are selling their new shows to advertisers May 17 through May 20 in Manhattan – a schedule front-loaded with one of the genre's trustiest staples, the law-and-order procedural. From college-age backpackers working as CIA spies abroad to remakes of two TV classics, "The Rockford Files" and "Hawaii Five-O," 29 of the 37 primetime drama pilots commissioned by the networks are some form of crime, cop, or conspiracy caper.
This embrace of small-screen sleuthing – at a time when many media pundits, including NBC executives themselves, have dubbed the old broadcast television model dead on arrival – reflects what popular culture expert Robert Thompson calls basic laws of entertainment dynamics.
"If it works, you keep making it," says the Syracuse University professor, adding that anybody who says that the old network TV era is over "just isn't paying attention.
"With all the genuflection to new media, people are watching just as much regular TV as they ever did," Professor Thompson says. "They may also be surfing the Internet, but the number of hours in front of regular TV has not gone down, it's even gone up an hour or two."
---