A character not listed in TV dramas: The city itself
As 'Law & Order: Los Angeles' ramps up, the role cities play in storytelling is seen in the tone, shaping of other characters, and cultural backdrop.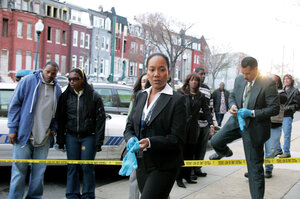 HBO
Casting for the new NBC spinoff "Law & Order: Los Angeles" is well under way, but perhaps the most important role was filled the moment the franchise opted to move west.
Around the writers' room of the just-canceled, 20-year-old mother ship of the crime series, it had long been an article of faith that Manhattan itself was "a seventh character," says executive producer René Balcer, who cohelms the team behind "LOLA," as the new iteration is known. And so, as the show's architects construct a new vision for the crime-and-punishment format in southern California, the City of Angels is already a potent presence, informing and helping to shape the show's tone, story lines, and other characters.
"We will go into neighborhoods you haven't seen before," says Mr. Balcer, not the well-worn haunts of a relatively narrow swath of real estate between Hollywood and Beverly Hills, but gritty enclaves such as Sylmar and San Pedro, to tap the residents and events unique to those districts. "The city will speak through all of these characters."
---