American Idol finds Lauren Alaina in Nashville: Is she the next Idol?
While Matt Dillard and Jackie Wilson impressed, Lauren Alaina's amazing vocals left the judges in awe. With just four episodes under their belt, has American Idol already found this season's winner?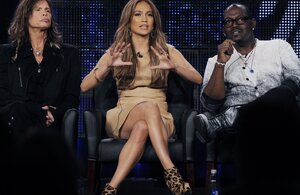 AP Photo/Chris Pizzello/FILE
Tonight's American Idol began with a never-ending screech from a flamboyant man with wild fashion sense. No, this time it wasn't Steven Tyler, but 18-year-old Darius Thomas and though the judges readily dismissed him, his sound was very similar to our resident rocker judge.
Apparently, Steven reached his wailing quota on Wednesday's episode.
For those who wondered if this season's Idol would be toning down the more ridiculous auditions, several such contestants obviously lined up in Nashville in protest. While Darius may have been a tough act to follow, Dental Assistant, Christina McCaffrey pulled out all the stops by showcasing unique dolphin sounds as she entered the audition room. Unfortunately, these particular sounds were audible to human ears. But her audition was not all for naught as JLo and Randy redirected her to her true calling as a cartoon voice over.
---