Dancing with the Stars 2011 lineup: Will Sugar Ray Leonard knock out the Karate Kid?
'Dancing with the Stars' 2011 will feature ex-boxer Sugar Ray Leonard, Ralph Macchio (of Karate Kid fame), and Kirstie Alley, along with the usual group of lesser-known media personalities. Who do you think will win Dancing with the Stars this season?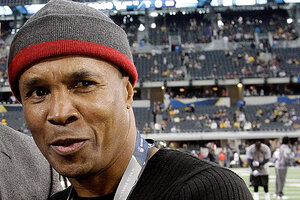 Mark Hoffman/Milwaukee Journal Sentinel/MCT/Newscom
It's March, and another roster for "Dancing with the Stars" has been announced. Where did the time go? It seems like yesterday when we actually worried that the wildly popular but less-talented Bristol Palin might snatch the crown from fleet-footed Jennifer Grey. (She didn't.)
This time around it's a male battle that has tongues wagging. With two fighters in the ring (legendary boxer Sugar Ray Leonard and wrestler Chris Jericho) as well as a movieland warrior (Ralph Macchio in the 1984 'The Karate Kid'), it's anyone's guess who will be victorious.
The fun of DWTS is the element of surprise, watching to see who will play against type and bust some bold dance moves. It may seem counterintuitive for a football player to trip the light fantastic, but Pittsburgh Steeler and Super Bowl MVP Hines Ward is in good company with former contestants ex-NFL star Jerry Rice, who took second place in Season 2, and Emmitt Smith, who won Season 3.
---