Dancing with the Stars results: Not so sweet for Sugar Ray Leonard
Dancing with the Stars recap: In the third round of DWTS eliminations, Sugar Ray Leonard and his partner Anna Trebunskaya, were America's least favorite couple on DWTS..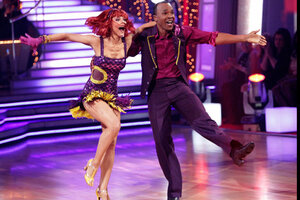 ABC, Adam Taylor/AP
Despite a decidedly lackluster performance by Kendra Wilkinson – and Kirstie Alley's impression of Cinderella losing her glass slipper during this week's performances – it was Chelsea Kane and Sugar Ray Leonard who found themselves in the Bottom Two of Dancing With The Stars Tuesday night.
But DWTS host Tom Bergeron reminded viewers that the Bottom Two are not necessarily the bottom two.
Poor Tom, he reminds viewers of this every week and one can't help but wonder why we aren't allowed to know who the bottom two really are. Is this DWTS's way of covering the trail of America's second-least favorite couple, or is it an attempt at creating suspense? If the latter, it might be more effective if DWTS selected two more evenly matched "bottom two."
While in a season that is woefully lacking in star-power, ex-boxer Sugar Ray Leonard has the edge over Disney actress, Chelesa Kane. And though Sugar Ray's performance of an endearing Nutcracker Viennese waltz with pro partner Anna Trebunskaya was his best of the season, the chances of him beating out Chelsea Kane this week was unlikely.
---