American Idol: Jacob Lusk leaves, Lady Antebellum soars
American Idol said goodbye to Jacob Lusk. Lady Antebellum performed its new single, and JLo also sang on American Idol Thursday night.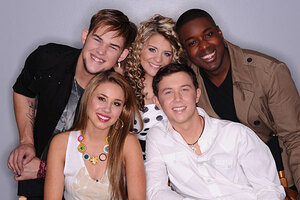 Michael Becker/Fox/AP
Thank goodness for Lady Antebellum.
If it weren't for this country band and Jacob Lusk's excellent swan song, the American Idol results Thursday night would have been simply one long series of commercial plugs.
Host Ryan Seacrest started by promoting Aerosmith frontman Steven Tyler's new book "Does the Noise in my Head Bother You? A Rock 'n' Roll Memoir."
That was quickly followed by the weekly Ford video starring American Idol contestants. Then, we moved into a new degree of Fox cross-promotional audacity.
It's not enough to have the stars of various Fox TV shows sitting in the front row, now Fox is integrating its other shows into its biggest TV ratings star, Idol.
We were "treated" to two cooking segments with "Hell's Kitchen" chef Gordon Ramsay. Each Idol contestant had to make an omelette in 10 minutes and be judged. Lauren Alaina won that round. Later, she and Jacob squared off in a blindfolded contest of Name This Food. Lauren won again.
---