Ashton Kutcher replaces Charlie Sheen on Two and a Half Men
Ashton Kutcher has finalized his contract to join Two and a Half Men, filling the spot left empty when the show's previous star was fired in March.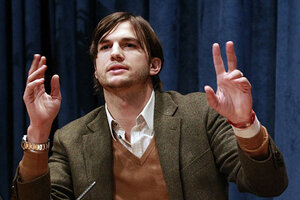 Brendan McDermid/Reuters/File
Ashton Kutcher, who launched his career with That 70's Show, followed by Punk'd, has landed Charlie Sheen's old spot on TV's most popular comedy, Two and a Half Men.
After months of speculation as to whether the show would go on without Sheen, and who might replace him, on Thursday night Kutcher simply tweeted: (-;
Confirmation came on Friday that Kutcher finalized his contract to appear on Two and a Half Men next season. He went to Twitter to thank his fans.
"Thank you for all the Congrats on 2.5. Met with the team this morning.... We are already working on earning your Laughter," Kutcher Tweeted.
Before Kutcher snagged the role, Briton Hugh Grant was said to have almost won the contract, but CBS, studio Warner Bros. ended negotiations with Grant, and soon found Kutcher.
---