American Idol finale: Lauren Alaina and Scotty McCreery close on a low note
American Idol featured Lauren Alaina and Scotty McCreery, the two youngest contestants ever to face-off for the title. But did the decidedly unremarkable American Idol finale teach the producers that they should be careful what they wish for?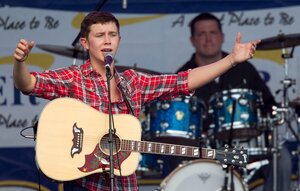 Robert Willett / The News & Observer
In Part One of the two-night season finale, the two youngest finalists, Lauren Alaina and Scotty McCreery, sang for the chance to become Season 10's American Idol.
But if you are not a fan of country music, there is a very good chance that you sat through this show asking yourself, "This is the finale? This is the culmination of the season?"
Each contestant had three songs to sing: their favorite of the season, a song chosen by their singing idol, and finally an original song that will become their first single if they win.
Scotty McCreery
Maybe it was the pressure or the 7,000 audience members, but Scotty McCreery seemed like he may have been in shock this episode. Sure, he hit all of his facial choreography while singing, but tonight's Scotty was a subdued, almost somber performer. There was no light in his eyes and few country boyish grins.
Round 1: For his favorite song of the season, he chose Montgomery Gentry's, "Gone." The performance was nothing special and seemed rather blasé for the finale. But by the end of the show, it was the most energetic of all Scotty's songs Tuesday evening. B-
Round 2: George Strait, picked one of his own songs for Scotty. Certainly, a totally altruistic move and Mr. Strait could not have been imagining his song being revitalized on iTunes the next morning. Scotty did a decent job with, "Check Yes or No," but again, his heart didn't seem to be in the performance. B-
---