David Letterman earns jihadist death threat: What did Letterman do?
David Letterman has inflamed the ire of a jihadist web forum by a gesture he made on 'Late Show with David Letterman.'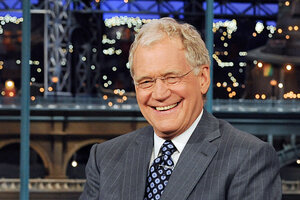 Heather Wines/CBS/AP/File
David Letterman could be called an equal opportunity offender. Now he's a marked man: a recent posting on the radical Shumukh al-Islam web forum called for his assassination – and, for good measure, to cut off Letterman's tongue. These threats were issued in response to a broadcast the CBS television program 'Late Show with David Letterman,' Mr. Letterman celebrated the killing of senior Al Qaeda member Ilyas Kashmiri by drawing his finger across his throat.
Letterman made the gesture after it was announcement on June 5, that a US drone strike in Afghanistan had killed Kashmiri. Various reports also said that Letterman had insulted Osama bin Laden.
---