American Idol judge behaving badly: Steven Tyler puckers up in Aspen
American Idol judge Steven Tyler is engaged, but isn't ready to let go of his lover-boy image just yet. Keep your eyes on American Idol contestant Haley Smith.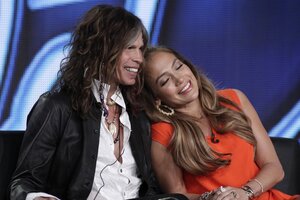 Jonathan Alcorn / Reuters
Wednesday night's American Idol began with overexcited, 24-year-old, Jenni Schick, a writhing, coquettish, ball of energy who freely discussed her desire to kiss various celebrities. And though Idol host Ryan Seacrest did not join the ranks of smooch-worthy Adam Levine, Lady Gaga, and Steven Tyler on Jenni's list; he did make the list of people Jenni's boyfriend would like to kiss. Hmmm.
So, Jenni bounds into her audition and immediately expresses her desire to lock lips with Steven Tyler. Steven shows an amazing amount of restraint for an over 60 man whose days of young girls throwing themselves at him must have an expiry, and makes her sing for him first. There was a lot riding on Jenni's audition: The affections of both Ryan Seacrest and Steven Tyler, and its also safe to say that after this performance, Jenni is no longer going to have her job as Virginia elementary school music teacher.
Her cover of Pat Benatar's, "Heartbreaker", manages to (just) earn her not a ticket to Hollywood and a full-on-the-lips smooch from Steven. Being engaged (to model Erin Brady), Steven really should have played a little harder to get. Perhaps Ryan could offer some lessons on boundaries.
---