'Masterpiece' for the masses
Under Rebecca Eaton, dramas like 'Downton Abbey' attract more, and younger, viewers.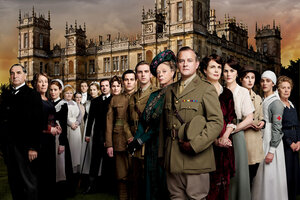 PBS
Will Lady Mary and her soul mate, Mat­thew, really wed? Will beloved manservant Mr. Bates escape the hangman's noose? Will Mrs. O'Brien's shocking secret be revealed?
The lives of people, both high- and low-born, on a rural English estate nearly a century ago wouldn't seem a likely subject for a hit television series. But "Downton Abbey," whose second season ended in late February, has broken out of the highbrow world of public television and into wider public consciousness, winning unheard-of ratings, numerous awards (six Emmys, including best miniseries), and adoration from fans and critics – all while attracting a new, younger audience that eagerly shares the series on social media like Twitter and Facebook.
"Downton" may have also removed the last layer of dust from "Mas­terpiece," the more than four-decades-old Sunday night PBS staple where "Downton" appears. "Masterpiece," once defined by the image of avuncular Alistair Cooke discoursing on the fine points of English literature from a wingback chair, has become a fully 21st-century franchise.
Yet longtime viewers are finding nothing amiss. When a "Masterpiece" series clicks, as "Downton" has, audiences both new and old are rewarded with great stories well told.
What else is in store this season
---