Randy Jackson will be an American Idol judge, Take 12
Randy Jackson will indeed be joining his 'bestie' Mariah Carey on American Idol's judging panel. Will Randy Jackson be joined by Nicki Minaj and Keith Urban?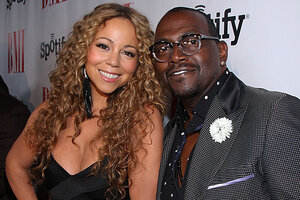 (Photo by Arnold Turner/Invision for BMI/AP Images)
Despite earlier reports that Randy Jackson would be hanging up his judging cap, insiders (and Simon Cowell's Twitter feed) are now claiming that Randy Jackson will in fact join Mariah Carey on the judging panel for the 12th season of American Idol.
Why the sudden turn of events – aside from a desperate attempt to create drama and generate buzz in the off-season? Obviously producers recognized Mr. Jackson's unwavering devotion to the show, his innumerable contributions to the juggernaut that has defined a generation, his ability to astutely and succinctly provide priceless industry advice to fledgling artists, his . . wait, what's that? Randy Jackson was a last minute fill-in after negotiations with Enrique Iglesias collapsed due to his demands for an eight-figure salary?
Well, it's great that Mr. Jackson is shrewd enough to not let his pride get in the way of another lucrative year on the judging panel. You can't teach an old dawg new tricks after all . . .
And, since we're on rumor overdrive, reports are that Nicki Minaj and Keith Urban are quite close to being confirmed as the third and, completely extraneous, fourth judges on the panel. A four-judge format is a questionable choice for Idol since their previous experiments with four judges seemed to weigh down a show that has been known to struggled with time-management issues even with three judges. But many of Idol's recent decisions seem to be directly influenced by the show's main competitors, FOX's The X-Factor and NBC's The Voice. The four-judge format, the rumored addition of Nicki Minaj (a direct response to The X-Factor's addition of two young, female pop artists to their judging panel) and the token, good-looking male country artist, Keith Urban also known as Blake Shelton 2.0.
---