A purr-fect year for cat videos
Mankind's formerly private love of cats is starting to go public.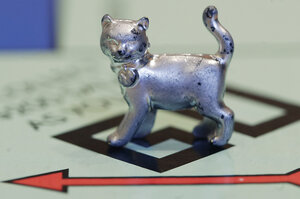 Steven Senne/AP/file
Watch out, mankind's second-best friend has been stalking the No. 1 spot and is ready to pounce. From Internet memes to film festivals, and from a new Monopoly piece to their own series on Animal Planet, felines have succeeded in making it cool to be crazy for cats.
People may feel they watch YouTube videos of prancing kittens in private, but the numbers reveal that they are definitely not alone. "Surprised kitty" – a 17-second clip of a kitten getting tickled – has drawn more than 38 million views. Maru, the Japanese cat who slides through soda boxes like an Olympic bobsledder, has had his antics replayed more than 198 million times. In a more deliberate art form, the existential angst of Henri, Le Chat Noir, a tuxedo cat who muses in a morose French voice-over, has drawn 3.5 million views.
Henri's filmmaker owner, Will Braden of Seattle, won the Golden Kitty People's Choice Award at the first Internet Cat Video Film Festival in Minneapolis last summer. Wondering how many showed up in person for that event? Try more than 10,000.
"Cats are great entertainers. They don't get the cinematic credit they deserve," says Rachel Strutt, the program manager for the Somerville Arts Council near Boston.
---