Annette Funicello was a Mouseketeer, beach-movie star
Annette Funicello appeared on 'The Mickey Mouse Club' in the 1950s and starred in a series of movies with Frankie Avalon. Annette Funicello died April 8.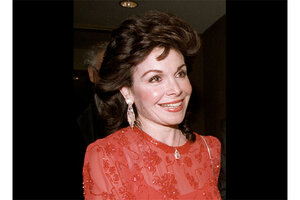 Annette Funicello, who became a child star as a perky, cute-as-a-button Mouseketeer on "The Mickey Mouse Club" in the 1950s, then teamed up with Frankie Avalon on a string of '60s fun-in-the-sun movies with names like "Beach Blanket Bingo" and "Bikini Beach," died Monday. She was 70.
She died at Mercy Southwest Hospital in Bakersfield, California, the Walt Disney Co. said.
"She will forever hold a place in our hearts as one of Walt Disney's brightest stars, delighting an entire generation of baby boomers with her jubilant personality and endless talent," said Bob Iger, Disney chairman and CEO.
Avalon said Monday that Funicello never realized how beloved she was.
"She would say, 'Really?'" he told The Associated Press. "She was so bashful about it. She was an amazing girl." He added: "She really had a tough existence. It's like losing a family member. I'm devastated, but I'm not surprised."
The pretty, dark-haired Funicello was just 13 when she gained fame on Walt Disney's television kiddie "club," an amalgam of stories, songs and dance routines that ran from 1955 to 1959.
Cast after Disney saw her at a dance recital, she appeared in mouse ears, a pleated skirt and a turtleneck sweater emblazoned with her first name. She soon became the most popular Mouseketeer in the cast, receiving 8,000 fan letters a month, 10 times more than any of the 23 other young performers.
---