The rise of 'redneck TV'
'Duck Dynasty' and other similarly themed TV shows are breaking viewing records and beating popular shows like 'American Idol' in the ratings.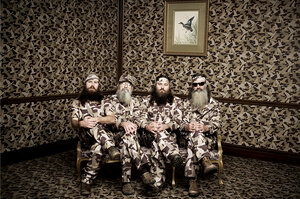 A&E Networks
How entertaining is it really to watch Southerners tackle alligators, catch critters with their bare hands, hunt ducks, and ride four-wheelers around in the mud? According to the Nielsen TV ratings, very entertaining.
As the popular "Duck Dynasty" (A&E) wrapped up its third season it boasted an average of 8.5 million viewers an episode. A quick review of program lineups reveals the appetite for self-described reality "redneck" shows is only growing: "Buckwild" (MTV), "American Hoggers" (A&E), "Moonshiners" (Discovery), and "Hillbilly Handfishin' " and "Call of the Wildman" (Animal Planet) are just a sampling of programs reveling in the adventures to be had in rural, southern America.
Why are these shows captivating TV audiences? It could have something to do with the Southern tradition of good storytelling, or the invitation to gawk at a culture vastly different from one's own.
Eric Deggans, television and media critic for the St. Petersburg Times in Florida, says there are two types of audiences drawn to these kinds of shows: one group that "feels like they're from that world, and another that likes to mock them."
---