A 'mockumentary' chapter ends
As 'The Office' ends this May, a look back on how it influenced the TV comedy genre and what made it work.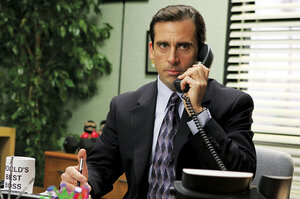 NBC/AP
Just when Americans thought they had escaped their clueless bosses, dreadful cubicles, and weird co-workers, "The Office" showed up in their living rooms. Nearly overnight the banality of workday routines, coffee breaks, and awkward office small talk became prime-time television. And it was hilarious.
Arguably the most successful adaptation of a British television program for an American audience, NBC's "The Office" – which wraps up May 16 – was groundbreaking in many ways. The show made comedian Steve Carell, as bumbling but lovable boss Michael Scott, a household name. It put actors John Krasinski and Jenna Fisher, and their office romance as Jim and Pam, on the map. And it elevated the art form of the "mockumentary" – in which actors break the third wall and reveal their innermost thoughts to the camera.
Over time, "The Office" built an impressive cast and perfected its secret sauce with the aid of improv, webisodes, subplots, and inside jokes. At times, the writers were even cast as supporting characters.
But mostly "The Office" will be remembered for its characters' confessionals as they tried to process and influence the bizarre chain of events constantly unfolding around them.
---