'Downton Abbey' season 4 will include Paul Giamatti, new suitors for one 'Downton' daughter
'Downton Abbey' is already planning its fifth season, said executive producer Gareth Neame. 'Downton Abbey' will air its fourth season this January.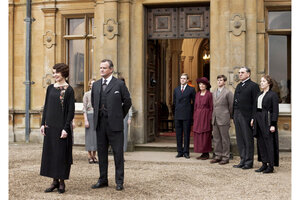 Nick Briggs/PBS/AP
Lady Mary will be mired in grief as season four of "Downton Abbey" begins, mourning the loss of her husband, Matthew.
But a string of suitors awaits when she's ready to live again, said Michelle Dockery, who plays Mary in the hit drama that will return to the Public Broadcasting Service's "Masterpiece" next January.
"She has more than one love interest," Dockery said. "She's kind of slowly throughout the series coming back to real life, and of course it's important for her to eventually move on."
All of those men are, she noted with satisfaction, handsome.
"That was stipulated by you," executive producer Gareth Neame said, dryly.
Mary's husband, played by Dan Stevens, was killed in a car crash just after welcoming the couple's newborn son, George, in last season's finale.
The fourth season of "Downton Abbey," which follows the lives of the family and servants living in an English stately house, will include newcomers Paul Giamatti as an American relation and opera singer Kiri Te Kanawa.
The drama series, which started in 1912 and has been moving the calendar forward, is up to the early 1920s and reflects the world's increasing modernity. A fifth season is planned, Neame said, who suggested there could be more to come.
---