'Futurama,' the sci-fi animated series, bids farewell – again
'Futurama' aired its series finale Sept. 4 on Comedy Central. 'Futurama' features the voices of Billy West and Katey Sagal.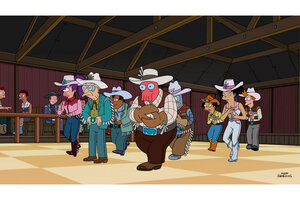 Fox/AP
"Futurama" has said goodbye yet again.
The final episode of the animated science fiction series aired Wednesday night (Sept. 4) on Comedy Central. Eulogizing "Futurama" is always a dicey proposition, however, since the show has come back from the dead several times before.
"In our hearts, 'Futurama' lives," series creator Matt Groening said Wednesday night during a webcast chat session celebrating the series finale. "We've been in this situation before. It's probably over, but we've said that before, too."
An eventful run
"Futurama" centers on the life of Philip J. Fry, a dimwitted 25-year-old pizza delivery boy who accidentally falls into a cryogenic chamber on New Year's Eve in 1999 and wakes up 1,000 years later.
Fry finds work at an intergalactic delivery company called Planet Express, which is run by the eccentric Professor Hubert J. Farnsworth. In addition to being 160 years old and a self-described mad scientist, the Professor also happens to be Fry's great-nephew, going down 30 generations or so.
A lot of other interesting and entertaining characters work at Planet Express, including the foulmouthed robot Bender and a one-eyed mutant named Leela, who eventually becomes the love of Fry's life (a bit more on that later).
---