Vanessa Lachey, James Spader star on new shows this fall: Here's a guide
Vanessa Lachey stars on the Seth MacFarlane sitcom 'Dads' while Rebel Wilson heads up 'Super Fun Night' this fall. Here are the shows Vanessa Lachey, Kal Penn, and more will be involved in.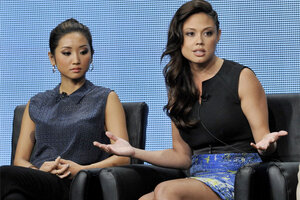 Chris Pizzello/Invision/AP
TV networks are rolling out some big guns this season, from a superhero spinoff to Robin Williams to a new series from Seth MacFarlane.
But after months of following the new shows from pilot to pickup and finally to their premieres, are you still able to keep all the new titles straight? Here's a quick guide to some of the programs debuting this fall.
The Blacklist (NBC)
Who's Involved: James Spader, Megan Boone, showrunner John Eisendrath
What It's About: An ex-government agent (Spader) who's become one of the FBI's most wanted fugitives surprises the bureau by surrendering and offering to help catch a very wanted terrorist. But he'll only speak with one particular female agent (Boone).
Why It's Worth Watching: Because after watching Spader play unsavory types in such offerings as "The Office," "Boston Legal" and "Secretary," it will be interesting to see if he can pull off a full-on heavy here. Also of interest: Whether the show's producers can sufficiently distinguish "The Blacklist" from the conceptually similar "Silence of the Lambs." Premieres: Monday, Sept. 23 at 10/9c
Dracula (NBC)
Who's Involved: Jonathan Rhys Meyers, showrunner Daniel Knauf
---