A blue wonder to remember
A Blue Morpho butterfly would be the perfect souvenir of Costa Rica – or would it?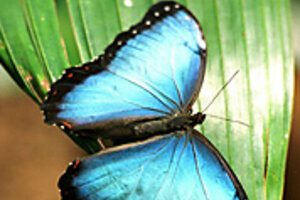 Kevin Seifert/The Herald Sun/AP/File
"Mariposa, mariposa," a young man with a beaming smile kept saying emphatically while pointing in the general direction of dense green foliage studded with bright red blossoms. Even with my very limited Spanish vocabulary, I knew that mariposa meant butterfly. But why all the excitement? There were hundreds of colorful butterflies in Costa Rica, all over, all the time.
"Mariposa," the man kept insisting and pointing. Until finally I spotted it: shimmery, electric blue, with a six-inch wing span, flitting gracefully through tropical lushness. "It" was a Blue Morpho butterfly, or Morpho peleides.
"Morpho," of Greek etiology, was an epithet applied to Aphrodite (Venus), goddess of beauty. And the Morpho butterfly, I can confirm, truly lives up to its name.
A naturalist friend had told me about these beautiful butterflies, but upon my first actual sighting, they still took my breath away. Even for a place like Costa Rica, where all of nature is "extra" – extra big, extra colorful, extra exotic – this creature was magnificent.
We made our way from rain forest to volcano to Pacific coastline, and I sometimes saw a few of the magical Morphos mounted in glass-enclosed display cases for sale.
How nice it would be to take one home, I thought. To look at again and again, to keep forever a piece of Costa Rica's splendor. It's always difficult to encapsulate the special awe and beauty of a place. Postcards and posters are nice reminders but can never quite capture the real thing.
---