Anything for root beer
Root beer is hard to come by in France. When a case of it arrived at a nearby shop, it was a must-have.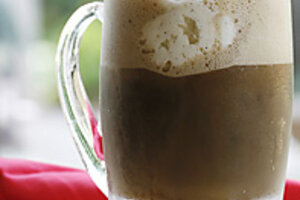 Ross Hailey/Fort Worth Star-Telegram/MCT/NEWSCOM
Here in St. Rémy de Provence, France, we have a store called Best of British, which sells all sorts of products such as Walkers shortbread, Twinings tea, Marmite, and steak-and-kidney pies.
It also has a large selection of used books in English with a wonderful pricing policy: one book free for every two you drop off. You can pay for books, too, of course, but the owner, Nichola Throup, who's called Nicci, clearly prefers to trade. "Oh, just take them," she says cheerfully when I plop a stack of books on the counter and ask the price. "Just bring them back when you're done."
For the large English expatriate community in this part of Provence, Best of British is a blessing, its shelves lined with comfort foods such as Batchelors mushy peas and McVitie's Mini Chocolate Hob Nobs – at prices only slightly above normal.
For an American like me, the store seems almost as exotic as the French grocery was when I first arrived. Here, potato chips are called crisps, cookies are biscuits, sausages are bangers – and you can buy all the sauces and spices you need for dishes such as chicken tikka masala, thanks to the huge popularity of Indian food throughout Britain.
It was a few days before Christmas when I ducked in to pick up something for a friend. I was chatting with Nicci near the scone mix when a man approached. "I hear an American accent," he said. It turns out that he was Nicci's husband, Graham, and he had just received a shipment of Reese's Peanut Butter Cups, Mountain Dew, Marshmallow Fluff, and other brand-name foods from the United States.
---