In the saddle at the Bison Museum
At the Bison Museum in Scottsdale, Ariz., kids will get a kick out of the Bison Ride exhibit and the Singing Bison Family.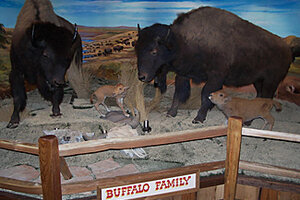 Courtesy of the Bison Museum
Can you imagine having a collection of something that you like so much that you buy a whole museum's worth of memorabilia? That's what Gary Martinson did! He loves bison collectibles, so in 1999, he bought the Buffalo Museum of America from an Arizona family and added the museum's collection to the one he already had.
Mr. Martinson was always passionate about bison. In fact, he attended North Dakota State University, whose sports teams are called the Bison, or the Thundering Herd.
From there, he began collecting all things bison-related. And he soon realized that images of bison are engraved, painted, imprinted on, or sculpted into things from all over the world.
Mr. Martinson was so enthralled by the American bison and the Wild West that he named his real estate company in Arizona "Bison Homes." And he displayed his collection at Bison Ranch, one of the company's planned communities.
But after a while, the collection grew too large for that location, so he decided to move it to Scottsdale, Ariz., a bigger city. He opened the Bison Museum in October 2007. And he combined all his artifacts and exhibits with the artworks of the Flagg family, who lived in Arizona beginning in the 1950s and were famous for their western-themed paintings and sculpture.
---