A taste of history on the Grease Trail
Following an old trade route of one of Vancouver Island's most important commodities was a memorable way to connect with the land and its past.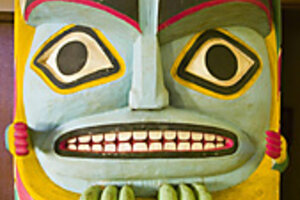 Lucidio Studio Inc./Newscom
Alert Bay, British Columbia
Recently, in my capacity as a chronicler of offbeat trips, I found myself off the coast of British Columbia, Canada, on Vancouver Island's so-called Grease Trail. Contrary to what you might think, this is not an itinerary that connects local Burger King, McDonald's, and KFC franchises. Rather, it's the route that Namgis First Nation people once used to transport grease across the northern part of the island.
A century ago, the grease in question – rendered from a small smeltlike fish called the eulachon – was at once a valuable trade item, a condiment, a medicine, and an insect repellent. Those First Nation people who didn't have access to it, like the Nuu-chah-nulth (formerly called Nootka), eagerly traded items such as copper and muskets with those who did, like the Namgis.
Eulachon grease is still esteemed by the Namgis, who refer to it as "liquid gold." At the instigation of Randy Bell, my Namgis host in Alert Bay, I smeared some on smoked salmon and instantly regretted it, for the grease replaced the inimitable flavor of the salmon with a flavor not unlike rancid lard.
Undeterred by my negative reaction, Randy offered to show me the highlights of the Grease Trail. So we climbed into his pickup truck, took the ferry to the town of Port McNeill, and then struck out for the island's interior.
---