Essay: When your GPS lady gives you wrong directions
Having a global positioning system in the car is fun – until the driver doesn't follow the directions it gives.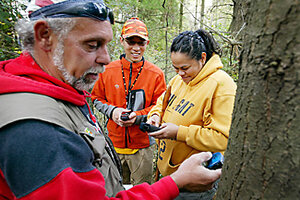 Rob Kuenstler/AP/File
A few weeks ago I became the proud owner of a GPS unit. For those of you who are less cool than I, that's short for global positioning system, which means, in effect: Put me and my car down anywhere – Biloxi, Miss., or Trenton, N.J. – give me the street address, and before you can set the table, we're there. No stopping at a local gas station, dry cleaner, or pet shop to ask directions. No hassling about whether I was supposed to turn left or right at the third intersection after the fourth traffic light. All I have to do is rest my foot on the gas pedal and listen to the mellifluous tones of The Lady inside my navigational system, who, with no malice aforethought, tells me where to go.
Because I've had my device only a short time, The Lady and I are just getting acquainted. But no doubt about it, she's a take-charge gal. Amazing, really. All I have to do is look at the small screen (which is not unlike the one on my BlackBerry, cellphone, iPod, or hand-held Boggle) and touch the picture of a map that says, "Show Map" under it, or a house ("Address") or a map with a pin stuck in it (Points of Interest), and she does the rest.
For our first outing, I chose "Address" and at her direction, began touching the letters of my destination city: East Haddam. I pushed "E"; she said "E." I pushed "A"; she said "A." I pushed "S"; she said "S." I pushed "T"; she said "T," I pushed "H"; she said "H." I pushed "A"; she said nothing.
---