Essay: A rescued quilt shines brightly
An antique quilt becomes room-brightening artwork.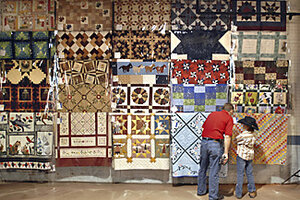 Dan Marschka/Intelligencer Journal/AP
Thirty years ago, my husband and I noticed a garage sale at a nearby home that boasted a state of Michigan centennial farm marker. Another sign swung from a maple shading the driveway and proclaimed that the Greens tilled this land called Green Acres. Turning right, John and I parked our car by the two-story white farmhouse and roamed through the sale.
While John perused used tools and peanut butter jars filled with various screws and bolts, I wandered around the tables smothered with bric-a-brac, crocheted potholders, and assorted household supplies.
I selected a Belleek honey pot and then spied a small stack of quilts. Two were comforters sewn from squares of wool and tied to a flannel back, but the other two were hand pieced from 19th-century calicos and hand-quilted. Even as a novice quilter, I recognized the superior workmanship. The crispness of the fabric relayed the fact that probably one of the quilts had never been washed.
Didn't Mrs. Green realize the historic value of these quilts and that they should remain on this centennial farm?
"Excuse me," I said while holding both quilts. "You really shouldn't sell these. They're heirlooms. Surely, someone in your family should have them."
Mrs. Green shook her head. "No one wants them."
I continued to laud the fine piecing, the 12 stitches to an inch, and the perfectly straight borders. I pleaded with her, explaining that the quilts represented not only the quilter's skill, but were part of the farm's history.
Mrs. Green merely smiled. "I think you should have them," she said. "Because you understand."
---