Essay: The moon we all share
No matter where we are or what we do, the same silvery satellite shines on all of us.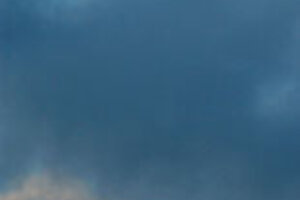 John Nordell/CSM/File
We were sitting on the little porch of a small apartment in Israel. Michael, my friends' 4-year-old son, and I looked at a full, shiny moon high up in the Middle Eastern sky.
"Is that the same moon we see at home in Englewood, N.J.?" Michael asked.
"Yes," I answered. "The same exact moon."
"But aren't we very far away from Englewood?" Michael continued. "It took us lots of hours on the plane to get here."
"Yes," I said. "We're almost 6,000 miles away."
"Then how could it be the same moon?" Michael's face was scrunched up in puzzlement.
It was obviously time for Michael's first astronomy lesson. We talked about how the earth rotates and the moon revolves around it. We talked about how very, very far away the moon is from Earth – 240,000 miles – no matter which country we have traveled to.
"Is that the same moon the astronauts walked on?" Michael wanted to know.
"The very same moon," I said. That idea was, indeed, quite awesome even from an adult's point of view.
Actually, for those astronauts, on their history-making lunar walk in 1969, things were kind of backward, I tried my best to explain in terms a 4-year-old could understand.
Back then, the three earthling pioneers looked from the moon to planet Earth, all those many miles away. But in any case, no matter what the "froms" and "to's," it was still the same moon each of them had first seen as tiny tots in Ohio (Neil Armstrong), New Jersey (Buzz Aldrin), and Rome (Michael Collins).
---