Thurgood Marshall: Civil Rights Champion
For kids: US Supreme Court justice Thurgood Marshall was the first African-American to be appointed to the highest court in the land.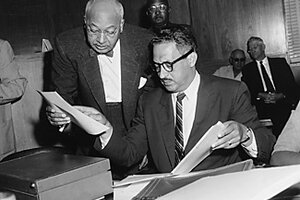 AP/File
You'd probably groan if you had to memorize long portions of a complicated document as punishment for cutting up in class.
The young Thurgood Marshall wasn't too happy, either, when teasing his classmates and joking around got him sent to the school basement to learn huge chunks of the US Constitution.
But when Mr. Marshall grew up, he could laugh about the experience. By the time he left that school, he said, he knew the whole Constitution by heart.
It's a good thing he did, because he became a very influential person in US history – as a famous civil rights lawyer and later the first African-American justice on the US Supreme Court – and the Constitution was a major inspiration in his life and career.
Civil rights lawyers specialize in protecting the freedoms that the Constitution guarantees to American citizens. Civil rights law focuses especially on the rights provided by the 13th and 14th Amendments.
Mr. Marshall's most famous civil rights case, Brown v. Board of Education of Topeka, Kan. (the "v." stands for "versus," the Latin word for "against"), was tried before the US Supreme Court.
It was actually a combination of five cases that originated in lawsuits by black students and their parents challenging legal segregation, or separation by race. In the 1950s, when these cases began, some states still had laws requiring black kids and white kids to attend separate schools.
---