Essay: What makes a house feel like home?
A simple question inspires an earnest, happy search for the answer.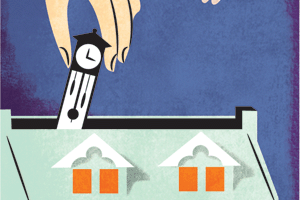 Scott Wallace - staff
If you were starting over in an empty house without any of your accumulated belongings, what would you need to make it feel like home?
That's the question four of us, longtime good friends, were discussing over a cup of tea. And the question continued nonstop in my thoughts after our tea-drinking stopped and I went home.
Understand – my home is my joy, my hobby, my comfort. I love the antique clock on the mantel, the family photographs that make me smile, our wedding-gift silver that can turn a plain meal into a celebration, the handed-down Blue Willow platter that has held the Thanksgiving turkey for generations. I love to arrange and rearrange, to add a flower here, a candle there, to feel happy and snug with a book of Emily Dickinson's poems, to fling open the windows in the spring and light the first fire in the fireplace in the fall.
So how would I – how could I – start over? After the necessary stove and refrigerator and sofa and beds were in place, what would I need to add in order to turn a house into our special home?
I've decided that the first thing I would look for would be a big family dining table – big enough for all of us, plus extra leaves to add for relatives and friends. That's because so many of our special times have been when we've all been together around the table. It's where we giggle and laugh and sing "Happy Birthday to You"; where we celebrate small things such as an 'A' in arithmetic and a home run in the ninth inning, and momentous things like a promotion at work or a college degree; where we soothe one another's hurts; and quiet our worries. And it's where we share our dreams, because when families share their dreams, everyone pitches in to make them come true, and miracles fan out from family dining tables like magic.
---