Spaceships and dinosaurs – from the junkyard?
For kids: Artist Steve Heller sculpts amazing art out of old tools and junked car parts.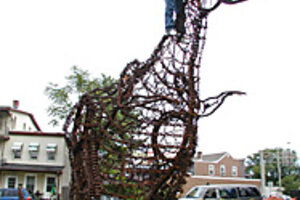 E.G. Fulton
Sparks fly wherever Steve Heller goes. He's a lively welder who sculpts dinosaurs and spaceships out of old car parts, tools, and scrap metal.
His backyard in Boiceville, N.Y., crawls with velociraptors and other prehistoric monsters, including an 18-foot-long "Chainosaurus."
Some of his creatures move when struck. Some of them spit fire. All of them are startling because they look almost alive, emerging from rusting heaps of metal that other people have discarded.
Looking for the bones and brawn of his creatures, Mr. Heller frequents junkyards and swap meets. He's in search of any object that may send his imagination soaring to distant nebulas – or reeling back through time 65 million years.
His precious found object might be a pickax that resembles a Stegosaurus horn, a Christmas-tree stand that looks like a flying saucer, or thresher blades that might make some fine reptilian legs.
Early art
Mr. Heller has been creating since he was a kid. When he was 12, he used to roam the woods looking for weird pieces of wood.
One afternoon, a stump jumped out at him, all gnarly and riddled with a mold that ran through it like black veins. None of the lumberjacks in the area wanted it, so he made his first piece of furniture. (Today, he has his own furnituremaking business.)
When he was 15, he bought a junked 1931 Model A Ford. He rebuilt the entire car but was too young to drive. So his schoolteacher dad drove the Model A to school every day – even in the snow!
---