Essay: Fly away home
As they move from Seattle to New Zealand and home again the next year, a husband and wife follow the migratory pattern of godwits.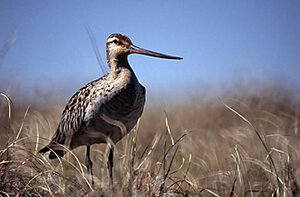 Courtesy of Tim Bowman/U.S. Fish and Wildlife Service
In my home state of Washington, the mud is brown, squelchy, and deep. It's likewise in New Zealand, at the Firth of Thames, where I was trying to excavate my shoes after a series of badly chosen steps. At first glance, all mud seems about the same.
But a closer look at the stuff showed its local qualities. During the ebb tide, the acres of mud flat were stippled with the shells of small mollusks. I wasn't the first to have noticed this, of course. Thousands of water birds had gathered at the estuary to feed – ducks, herons, terns and gulls, knots, wrybills, and godwits.
We were there to see the bar-tailed godwits. (Or, to be fair, I was there to see them, and my wife, since she's a good sport and also because my bird-watching amuses her, had come along, too.)
I'd run into them before back in Washington – they show up every so often when they get lost on migration – and it was a treat to see them again, a reminder of home when we were so far from it.
The sun and sky were cold, the wind whipped sharply across the grasses. It was winter in June, which took some getting used to. The birds had segregated themselves in varying degrees of climatic fortification. Most puffed out their feathers and huddled against the wind, but a few more hardy ones were out and about in the water.
The godwits were among those. They were easy to identify: a loose flock of large, slender birds with long upswept bills. Their plumage is gray, mottled with brown and black. They stepped with graceful, deliberate precision, and then would thrust their heads into the mud up to the bill base in pursuit of some worm or clam.
The first people to discover New Zealand owed much to godwits. One legend has it that the ancestors of the Maori, who were living on a nearby barrier island at the time, observed the annual southward passage of what they called the . They thought, Surely all those birds aren't just circling the earth, so they hopped into their big outriggers, set sail, and found New Zealand.
---