3 kids + 1 good book = great road trip
For this family, choosing a book to read aloud in the car is essential.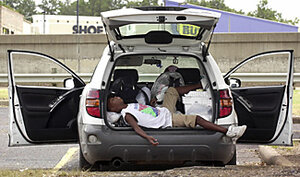 Joel Andrews/The Lufkin Daily News/AP/File
My motives for starting our family's tradition of reading in the car were purely selfish: I could not bear the thought of listening to "A Sesame Street Christmas" for another 10 hours. My children had latched onto this cassette on our previous summer's road trip, and Oscar the Grouch's rendition of "I Hate Christmas" ran through my mind for days afterward.
As I began to gather toys and trinkets to entertain my three young children on our next 500-mile car trip, I came across a book I had purchased but never opened, Jim Trelease's "The Read Aloud Handbook." Before long, I was sitting cross-legged on the floor, engrossed in his book and assertion that reading aloud doesn't need to end with picture books and that very young children will listen to chapter books.
This could be the answer to my problem, I thought. Dubious but desperate, I tucked a paperback copy of Roald Dahl's "James and the Giant Peach" into my trip entertainment bag. Mr. Trelease calls Dahl's classic his favorite read-aloud book. We had barely cleared the city limits when whining set in. I opened the paperback and began to read aloud the tale of the orphaned boy who escapes his wicked aunts by hiding inside a giant peach.
My 2-year-old, 5-year-old, and 7-year-old squirmed and wrestled in their seats, but soon they settled into the rhythm of the words and began to listen.
My extended family lives 489 miles away, and our favorite vacation spot is about 700 miles from our home. We soon learned that the simple pleasure of listening to a well-written book makes the long miles pass more quickly.
---