Short stuff
For kids: Newsy items ranging from cookies to bats to tennis just for the 10-and-under crowd.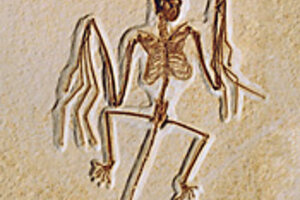 American Museum of Natural History/AP
Save that daylight
Daylight saving time began on March 9 this year, earlier than usual. In 2007, a new US law extended the duration of daylight saving time by several weeks in hopes that it would help people save energy. The idea is that if people have an extra hour of daylight in the evenings, they'll be able to use sunlight longer, instead of electric bulbs, to see.
But saving daylight is far from a new idea. Founding Father Benjamin Franklin is the first to have written about this concept when he lived in Paris in 1784. In a letter to a local publication, Franklin joked that Paris residents (including himself) wasted money and resources by staying up late and burning candles for light, and then sleeping away half of their daylight hours.
Instead of proposing to set clocks ahead, Franklin suggested measures such as ringing church bells and firing cannons to wake everyone at sunrise!
Fortunately, Congress didn't resort to any of these actions when it passed the first US daylight-saving law in 1918.
You go, girl!
March is National Women's History Month. To commemorate the occasion, the National Women's History Project chooses a new theme every year to recognize women with a range of talents. The 2008 theme is "Women's Art: Women's Vision."
Here is just one of the gifted artists who will be honored this year:
---