Off the beaten path with peanut butter sandwiches
A man finds that he's not the only one who pairs his peanut butter with unusual ingredients.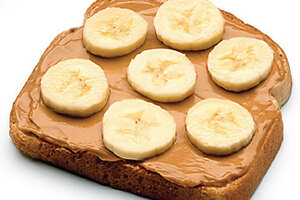 Courtesy of the National Peanut Board
"A peanut butter and tomato sandwich? Yuck!"
I've gotten that reaction ever since grade school when I brown-bagged it with my mother's lunch creation. No one in the cafeteria ever wanted to trade. My mother was the only other person I knew who ate it. Fifty years later, I still fix it for myself. My wife turns her nose up at it. Friends and relatives give it that "thanks, no thanks" look.
I began to think I was alone in relishing unusual peanut butter sandwich combinations. But then I ate at Mo's Restaurant in Burbank, Calif. There, I discovered the Foggybottom Burger, which features peanut butter and sour-plum jam, in addition to other toppings.
I was telling my wife's cousin this and he recalled, "Near Purdue, the Triple XXX Family Restaurant served the Duane Purvis All-American." The menu describes this as a hamburger on a "toasted sesame seed bun with melted cheese on top with lettuce, tomato, pickle, [and] Spanish onion.... Add thick creamy peanut butter on the lower deck and you're in for the touchdown!"
I began asking friends and total strangers if they knew of other out-of-the-ordinary peanut butter sandwiches. I discovered that I run in a very sheltered culinary crowd. Almost without exception, they mentioned the pedestrian peanut butter and mayo combo. The exception was a delightful young woman with purple hair, who said, "You just gotta try peanut butter and spicy mustard."
Not long after, I came across an article about an Elvis cookbook, "Are You Hungry Tonight?" Turns out that the King loved fried peanut butter and banana sandwiches, although Elvis experts debate whether he preferred sliced or mashed bananas.
---