A great spring vacation – I think
Rather than head to a resort for relaxation, this family hopped a bus to the city that never sleeps.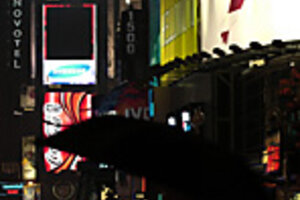 Andy Nelson – Staff/File
Some folks head to a Caribbean beach for spring break. Others spend a week at a ski resort. And still others inexplicably take a four-day, three-night bus tour from Ontario to New York City. That would be my family. And in case you're wondering what such a trip would be like, here's what you could expect:
Thursday 7 a.m.
Board bus at local shopping center for scheduled eight-hour bus ride to the Big Apple.
4:30 p.m.
Thanks to an unscheduled stop for bus repair, manage to arrive at lineup for Lincoln Tunnel at rush hour, allowing for our first real-life New York City experience.
6:30 p.m.
Two-hour, bumper-to-bumper crawl through Lincoln Tunnel eventually leads to midtown Manhattan hotel and room check-in.
7 p.m.
Rather than rest and relax, rush off to Times Square to buy half-price tickets for last available Broadway show, "Grey Gardens," a musical based on the lives of Jackie Kennedy Onassis's eccentric aunt and cousin.
8 p.m.
After wolfing down pricey but "genuine" New York deli sandwiches, arrive at Broadway theater and take seats in last row of mezzanine. Give thanks that we only spent $60 per ticket, rather than the full $120.
Friday 6:30 a.m.
---