The wild world of Pippi Longstocking
Kids love the spunky book character, who's from Sweden.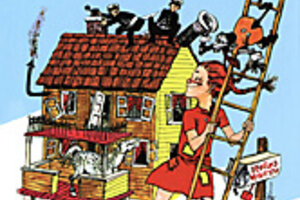 Courtesy of Penguin Young Readers
Pippi Longstocking, with her wild hair and outrageous antics, has been delighting kids across the globe for more than 60 years. Have you read about her adventures? Did you ever wonder how this wacky character reached superstardom? Well, it all started with one real-life girl.
One day when she wasn't feeling well, Karin Lindgren asked her mother, Astrid Lindgren, to tell her a story. When Mom wanted to know what the tale should be about, Karin made up a name. "Pippi Longstocking!" she said.
Mrs. Lindgren came up with a character she thought fitted the funny name – an adventurous 9-year-old with braided red hair that stuck straight out on either side of her head. This child lived in a house called Villa Villekula with her monkey, Mr. Nilsson, and her horse, Old Man, but no grown-ups. Pippi lived happily on her own, taking care of bullies, pompous adults, and robbers with her superhuman strength, humor, and good nature.
Pippi on paper
Pippi was a hit in the Lindgren household, but although Mrs. Lindgren told the stories regularly at bedtime, she didn't even bother writing them down. It wasn't until a few years later that she finally put them on paper. She had wanted the manuscript to be a gift for Karin's 10th birthday, but she also sent it to a large publishing company. It was rejected.
That didn't stop Mrs. Lindgren, though. She revised what she had written and submitted it to a children's-book competition at a smaller publisher called Rabén & Sjögren. She won!
"Pippi Longstocking" was published in 1945 and became a hit with Swedish children, although some adults worried that Pippi would be a bad role model.
---