Displaced by March Madness
Boyfriends will just have to be patient while female basketball fans take time for what's really important: watching the games.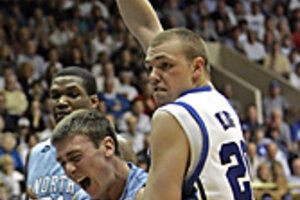 Gerry Broome/AP
After being single for years, I've started seeing someone new. And he's about to become a college basketball tournament widower.
Surveys estimate that about one-third of all college basketball fans are women. So when the NCAA tournament rolls around (March 20 – April 7), Mike could find himself in good company among the other temporarily displaced boyfriends – or he could learn to like basketball.
We already have our fair share of differences – he's a conservative, vegetarian Gentile; I'm a liberal, carnivorous Jew. But this potential conflict promises some entertainment value, as my new beau discovered when he bravely sat down at my place for an Atlantic Coast Conference (ACC) game: University of North Carolina at Chapel Hill (UNC) versus Duke University in Durham, N.C.
Mike quickly decided that watching me was more interesting than the game itself.
I went to Duke and am a serious Blue Devils basketball fan. I have Duke sweat shirts, T-shirts, hats, and sweat pants. I have a giant – size XL – Duke hockey jersey that comes out of the closet for important round-ball games. I have to be careful not to trip myself up while wearing it – I'm 5-foot, 4-inches tall and weigh 120 pounds – but that's part of the fun.
UNC is Duke's biggest rival. These matchups are always tense and exciting – the best college hoops has to offer.
---