Helping hands around the world
The Internet has made giving to those less fortunate easier than ever.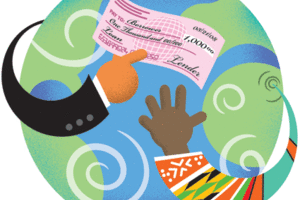 Scott Wallace - staff
Last spring, I lent 100 bucks to a woman named Helena Tawiah, whom I'd never met.
Here's how it happened:
My wife and I were watching TV one night – it must have been PBS – when we heard about a project called Kiva. We've both lived overseas and were impressed that the founders had concocted a way to marry sophisticated Internet capabilities to the need for capital at the grass-roots level of developing countries. They do this by putting their technology at the service of foundations working with small-scale local businesspeople. These foundations develop loan requests from the entrepreneurs, upload them to Kiva, and then help make sure the loans get repaid.
We went to the website. There, we were invited to "Choose an entrepreneur" from a list of them in countries all over the world. What caught our eye was Helena's Plastic Products, run by Helena Tawiah of Nkurankan, Yilo Krobo District, Ghana. There was a photo of Helena standing before a large collection of plastic containers, a kind of Tupperware queen of Yilo Krobo. Why not advance her $100? We would start our own mini development-aid program.
Why Ghana? If you've been to Ghana, you have to love the place. Accra, the capital, has a wonderful West African vibrancy that you'd never expect when you see what the sea air does to the sides of buildings. The town looks – or at least it used to – as if the whole place is in an advanced state of decay. Nothing could be further from the truth.
---