Essay: The summer of '72, when anything seemed possible
As a kid in the summer of '72, she fell in love with baseball – and the unstoppable Athletics.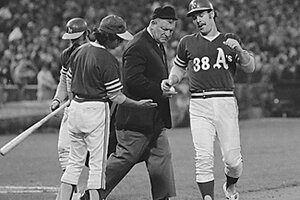 AP/File
When I was 10, I decided I would marry Gene Tenace.
He was the unlikely hero of the 1972 World Series. Gino, an Oakland Athletics catcher and sometime first baseman, surprised everyone by hitting home runs in his initial two at-bats in the series, a new record. He'd done little earlier in the season, but when it was important, he swung for the fences. Two more home runs (a record he shared with some baseball greats) and other key hits helped him snag the title of the series' most valuable player.
This seemed to be the kind of man I should marry – a Clark Kent-type who no one suspected was actually Superman. He, like I, was born in October, and what better month for baseball?
No matter that (a) I was only 10 and (b) Gene was already married and had children. It seemed eminently possible that we could be man and wife because anything seemed possible to me during the years from 1972 through 1974.
It all began in the summer of '72, when my grandmother took me to my first ballgame. On that day at the Oakland Coliseum, the A's beat the New York Yankees, I received a free pennant just for being there, and I fell in love at first sight with the game of baseball.
I will always remember the awe I felt walking into the stadium that day. It was all so much larger than life. The colors – of the slightly garish green and yellow uniforms and the carefully manicured field – were sharper than anything I'd seen before. The noise of bat hitting ball and the cries of the crowd were the most joyous sounds I'd ever heard. And the smells! Hot dogs and popcorn. Forever afterward, those scents would be inextricably linked in my memory with baseball and winning.
---