This dog sniffs for a living
For kids: Mold can hide behind walls where it can't be seen, but specially trained dogs can sniff it out.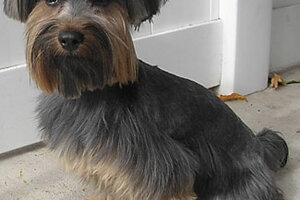 Courtesy of Cathy E. Flinton
Duke Flinton isn't your average detective. Sure, he's good at solving mysteries, but his real talent lies in sniffing out the clues. With his ears perked, nostrils flared, and stubby tail wagging so hard that his feet slide on a polished floor, Duke, a silky terrier who lives in Utah, is hot on the trail of an intruder.
The culprit: household mold. You've probably seen mold before. It's that green and black stuff that grows on bread when it's left in the cupboard too long. If water gets into your house and it's not cleaned up quickly, mold may begin to grow on your walls, just as it does on bread. Unfortunately, once it gets started, mold spreads quickly and often grows behind walls and under carpets where it's hard to find.
This is where Duke comes in. Mold has an odor, and with their super sense of smell, dogs can detect it. According to Art Flinton, Duke's owner, dogs' noses are much more sensitive than humans'. "We might walk into a room and smell spaghetti sauce," he says, "but a dog would pick up the individual smells of oregano, basil, tomatoes, and so on."
While working as an insurance adjuster, Mr. Flinton saw firsthand the damage that household mold can cause. When hurricane Katrina struck New Orleans in 2005, some houses sat in water for weeks. When the flood receded, many homes were literally consumed with mold and had to be abandoned.
---