Matched through the Monitor's Mail Bag column
Letters full of teenage small talk marked the start of a lifelong friendship between a Japanese girl and an American family.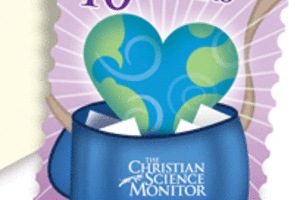 Scott Wallace - staff
"Our country is very pretty right now ... for it is full of many kinds of flowers." This was the introductory statement above Fumiko's name in the July 20, 1951, edition of this newspaper's Mail Bag, a periodic column for young people worldwide who wanted pen pals.
Intrigued, my sister, Rozanne, began writing to this Japanese girl. Their letters were full of teenage small talk – similar to local friends chatting. They wrote about the subjects they studied in school. They shared common experiences. They described the weather and their mutual excitement about staying home from school on a snowy day.
They even contrasted their behavior in a similar situation: a boring social studies class. My sister mentioned passing notes to girlfriends during it. Fumiko explained how Japanese students were taught to respect all teachers and would never think about such an exchange in their strict classrooms.
It was easy for my sister to compose letters in her native language, of course, but in the beginning, Fumiko had to work hard to reply in English. She looked up many words in the dictionary.
After graduation, Fumiko married Takao, a prominent Japanese pioneer in aeronomy, the atmospheric branch of geophysics. Because of Takao's new theories, the Jet Propulsion Laboratory in Pasadena, Calif., invited him to continue his research there in 1962.
I was attending college nearby at that time, and since my sister lived in Missouri, I was the first of us to meet the young couple. They treated me to dinner at a Japanese restaurant and taught me how to use pointed, lacquered Japanese chopsticks to eat tempura (vegetables and fish fried in batter).
---