IMAX 'Alps' a cold adventure
The film chronicles a real mountain-climbing adventure in Switzerland.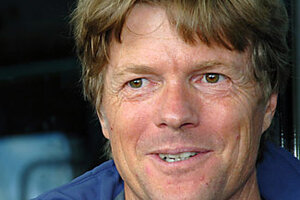 Courtesy of John Canning/Macgillivray Freeman Films
Do you love outdoor adventure? Do you like hiking? Have you ever climbed a mountain? The IMAX film, "The Alps," has them all.
The movie chronicles the experience of renowned American climber John Harlin III, as he journeys to the Swiss Alps and prepares to climb the Eiger, a peak famous for its treacherous north face, a vertical rock wall that juts more than a mile into the air.
A group of four German and Austrian men were the first to successfully ascend the Eiger from the north side in 1938. Since then, many courageous climbers have attempted to do the same. And while many have made it to the top, others perished because of severe weather or climbing equipment that malfunctioned.
The film explains that Mr. Harlin's father, John Harlin II, was one who never made it. He died in 1966 as he and a team of four other men tried to be the first to scale the north face by its most direct route.
As an adult, Mr. Harlin got serious about climbing, too. His favorite part of mountaineering is the exploration, he said after a special screening of "The Alps" at Boston's Museum of Science.
Unlike some climbers, he doesn't look for the most difficult or dangerous climbs. Instead, he loves the beauty of the outdoors and discovering new things about the mountains he summits. And safety is always at the top of his list.
Still, Mr. Harlin wanted to make the difficult climb up the north face of the Eiger, in part as a way to honor his father. So he made sure he had the right equipment and that his climbing partners had plenty of experience.
They were a husband and wife team who had both ascended the north face several times. And they live in the Swiss Alps, so they practiced climbing cliffs with Mr. Harlin right in their backyard!
---