All about windmills
For kids: Windmills have been around for centuries, and the modern versions still work hard today.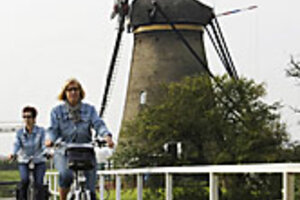 Evert-Jan Daniels/AP
"Behold! A giant am I!" That's how Henry Wadsworth Longfellow's poem, "The Windmill," begins. Towering above us, the big arms (or blades) of the De Gooyer windmill hung motionless in the blue sky.
Once upon a time, those arms – often called sails – would have turned in the wind and helped power machinery to grind corn into meal. But now the windmill is a tourist attraction.
The world's first windmills may have been developed in Persia (modern-day Iran) more than 1,000 years ago. Over time, countries in Europe began to use them, too.
It's possible that the Netherlands wouldn't be the country it is today without these enormous structures.
Beginning in the 1200s, they were used to drain excess water from low-lying marshes and fens so that the Dutch people could live and work on the formerly wet ground.
When windmills were working at their peak – that is, when a good strong wind was blowing and the sails were turned to the wind – they were reported to be able to pump 10,000 gallons of water each minute into the canals that had been built to manage the water.
In the 1600s, the crankshaft and camshaft became popular in Europe. These technologies made the windmills useful for many more tasks.
A camshaft is a rod with many bumps along its length. It's connected with gears to the crankshaft, which turns it. This helps create a lifting motion.
With this technology, windmills could be used to help make paper and grind grain, cocoa, and spices.
---