Two neighbors, worlds apart
A visitor on a river cruise between China and North Korea wonders how the North Koreans view the disparity in the two countries' quality of life.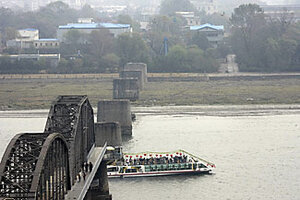 When I planned a weekend trip to Dandong, China, it was because I wanted to hike on the easternmost part of the Great Wall. Sure, I knew the city was located on the Yalu River, which forms the border between China and North Korea, but I wanted to explore the Great Wall and its surroundings. I expected to spend an hour or two, tops, ogling China's nuclear neighbor. I didn't think it would be that interesting.
Then unexpectedly I took the North Korea bait when I purchased an admission ticket to the Broken Bridge, which was started in 1909, completed two years later, and destroyed almost 40 years later by the US to curb Chinese involvement in the Korean War.
I walked down the remaining part of the bridge trying to piece together its history from the kind of broken English only the Chinese can manage to write.
When I arrived at the end, I rented a telescope from a clever merchant who recognized the value of a captive audience.
As I scanned the empty-looking houses, the falling-down one-story buildings, the rusty boats, and the small aging ships on the North Korean side, my mind raced with all kinds of questions. But it was when I saw the colorful – but unmoving – Ferris wheel that my curiosity was piqued irrevocably. There it stood, on a beautiful sunny Saturday afternoon, empty, devoid of the Korean kids I assume it was built to entertain.
In front of me stretched the Democratic People's Republic of Korea (DPRK), whose population is estimated at about 23 million people. Its citizens cannot vote, speak against their government, access information from outside sources, or leave their country. Yet they can look across this river and see that even in China, North Korea's closest ideological ally, how different life can be with a dash of market economy.
Upon my return from the bridge, I decided I wanted a ride down the Yalu River on one of the many cruise boats that promise to get their customers even closer to the DPRK.
---