What young people are doing for Earth Day
For kids: The Monitor asked how young people and teachers would celebrate Earth Day. Here are some of your responses.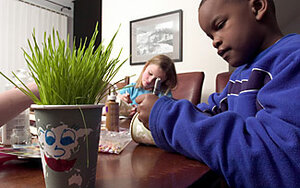 Bill Ross/AP
We asked young readers and teachers to tell us how they're celebrating Earth Day 2008. Here are some responses:
Trashless lunch, green rewards
The Environmental Club at my school really rises to the occasion during Earth Month. Every day throughout April, there is a trashless lunch contest where students using reusable Tupperware containers and reusable lunch bags are rewarded with raffle tickets toward Earth-themed prizes.
This year, the club is planning to start a garden in the courtyard where people eat lunch or hang out during the warm-weather months. The garden will feature different flowers and plants, each sponsored by a different homeroom.
On Earth Day, the school will hold a special prayer service honoring all creation and blessing the plants on the school grounds.
Johanna Ohm, Coxsackie, N.Y.
Eleventh grade
Back to nature
On Earth Day, our second-grade class is going to a local nature preserve to learn about plants, animals, and their environment. We are an inner-city school where many of the students have limited opportunities to leave the city and have real-life experiences discovering nature.
Prior to our field trip, students are growing plants in our classroom. Students will give the plants to their mothers on Mother's Day and then plant them in their yards.
Theresa Goodridge, Hamtramck, Mich.
Second-grade teacher
Recycling batteries, rescuing wetlands
---