Ooey, gooey oil seeps on the seafloor
For kids: Off the coast of Santa Barbara, Calif., people aren't polluting the ocean with oil – nature is.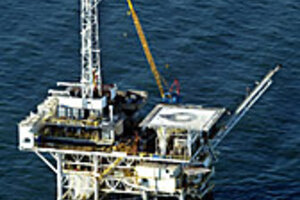 Robert Harbison/CSM/File
Santa Barbara, Calif., is famous for its golden beaches, wind-swept cliffs, and scenic views of the Pacific Ocean. But the city's postcard image hides a dirty secret: oil slicks – as colorful as a rainbow and as smelly as a gas station – float atop ocean waves just offshore.
Don't blame the oil rigs that dot the coastline, though. They may actually be helping keep the marine environment clean. In this topsy-turvy place, people aren't polluting the ocean – nature is.
Oil from underground deposits has been seeping into the Santa Barbara Channel for thousands of years. Every day, about 11 tons of oil droplets and oil-coated gas bubbles leak out of small holes or fissures in the seafloor.
Because oil is lighter than water, much of it rises to the ocean's surface and floats in thin, silvery slicks. But not all of it will reach the surface. About 15 percent will dissolve in the water in about a month. A small amount will sink into the mud and muck on the seafloor. And some of it will thicken into the gooey, black tar balls that wash ashore on Santa Barbara's tourist beaches.
Tar balls can be little black pebbles not much bigger than your fingernail, or they can be big, black blobs several inches across. Step on a sticky tar blob with your bare foot, and you'll wish you hadn't.
A long time forming
There are about 2,000 natural oil seeps in the vicinity of Santa Barbara. Where did they all come from? Over millions of years, oil-bearing rocks thrust upward by the San Andreas fault were exposed to the erosive forces of wind and rain. Oil-bearing sediments were swept into streams and rivers, where they settled in thick layers on the bottom of ancient oceans, lakes, and swamps.
---