Rock on, runners!
On marathon day, the cheering crowd and all the runners are connected.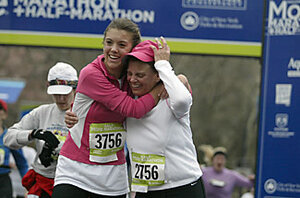 ZUMA Press/Newscom
I am not a runner. Still, I very much enjoy staking out a sidewalk "cheering spot" during the New York City Marathon. Whether I know anyone who's running is beside the point. We rooters understand that on marathon day, we're all connected.
Training for a marathon is a true challenge, completing one a triumph; simply attempting the feat is a huge deal. Each entrant deserves support, and if hearing shouts of encouragement is uplifting for the marathoners, it likewise lifts the spirits of those who are shouting.
It's fun when a racer's shirt has been written on, telling onlookers what to say – "Rock on, Stephanie!" "Go, Grandpa Joe!" Some just give a name, leaving the cheering specifics to the crowd but letting particular runners ("Looking great, Luther!" "Nice pace, Elke!") hear that they and their efforts are not overlooked. Random, anonymous, stream-of-consciousness cheering is enjoyable, too: "Keep it up!" "That's the way!" "Cute shoes!"
Some runners slow for a moment to speak to me, usually wondering what point they've reached in the course. "You're in Williamsburg! Almost to Greenpoint! Welcome to Brooklyn!"
Last year, when I showed up at the point of the marathon route nearest my home, I saw ... nothing. I had misjudged. The band that had been playing on the corner was packing up, and the crowd had dispersed. I was appalled. The marathoners had trained diligently for months, come from all over the world, and gotten themselves out of bed near dawn to arrive at the starting line. All this, and I could not complete the 10-minute walk from my apartment in time to support them?
---